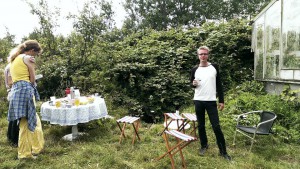 Vi havde åben have i søndags og glemte at skrive her på hjemmesiden om det! Men på facebook og i lokalavisen var det annonceret, og det var en herlig dag. Vi siger hjerteligt tak for besøget.
Efter at have plukket så mange vindruer, ribs og solbær, at vi var ved at segne, plukkede vi urter og blomster til the: rosenkronblade, morgenfruekronblade, skovjordbærblade, hindbærblade, mynthe …..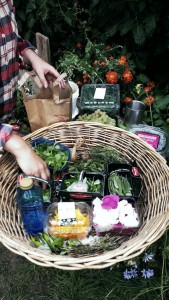 I Dornach nær Basel smagte jeg i sommer en fantastisk the. Den var lavet med urter og blomster fra Goetheanums have og indholdet følger nedenfor. Næsten alle ingredienserne findes i Permahaven, og vi er nu ved at tørre nogle af dem til en sensommer-forsmag på theen. Den rigtige the skal laves i slut-juni eller start-juli, hvor der er skovjordbær, og hvor mynthe og timian endnu ikke blomstrer.
Goetheanum er verdenscenter for antroposofien, Rudolf Steiners lære om alskens aspekter af livet, fra kunst til jordbrug. Biodynamisk landbrug følger hans lære, så Goetheanums have er biodynamisk, og køerne, der græsser dér, får lov at beholde deres horn. Det er dog ikke for det biodynamiske som sådan, men for den skønne smag og det skønne udtryk, at jeg blev inspireret til at lave denne the.
Goetheanums urtethe:
tørrede skovjordbær
skovjordbærblade
hindbærblade
kamille
lavendel
salvie
timian
morgenfruekronblade
rosenkronblade
citronmelisse
pebermynte
blomst af malva (mamelukærme?)
røllike (blomst og blade)
blade af løvefod
blomster af perikon
kornblomst-kronblade
purpursolhat (echinacea)
blomst af hestemynte
I Permahaven mangler vi kun purpursolhat, kamille og kornblomst for at kunne opfylde hele ingredienslisten.